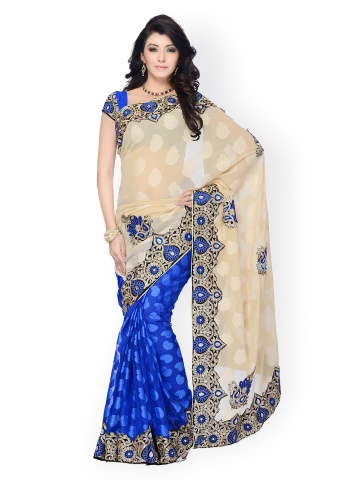 Colors Beige & Blue Embroidered Jacquard Fashion Saree
Brand :
| Sold by :
Last Updated on :
Mon Jul 10 11:41:15 IST 2017

Rs. 1049
Cashback from PaisaWapas
T&C
Rs.52
Lowest Price after Cashback
Rs.997
Product Info & Care
Beige and blue half-and-half fashion saree, has embroidered and Jacquard woven detail
Comes with a blouse piece
See the final image for a mock-up of what the actual blouse would look like
Polyester and Jacquard
Dry-clean
Length: 5.5 metres plus 0.8 metre blouse piece
Colors presents its collection of gorgeous fashion sarees in a wide array of colours and patterns. A must-have in your wardrobe, this piece is best styled with a pair of heels and a metallic-toned clutch.